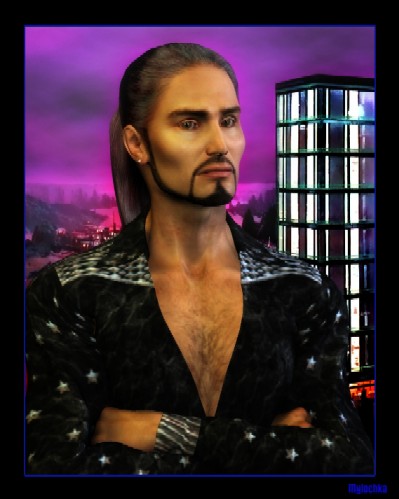 Lane Gage is a dealer of Haven chemicals (Dealer Extraordinaire is his official Haven title). He is suave and cool, extremely good at what he does, unflappable, and a killer negotiator. He makes a lot of profit. (For more information on Havens, see The Haven Trading Empire)
He's just over six feet tall, with the typical Haven black hair and California-tan golden skin. He has a neat beard and moustache and rarely wears any color other than black - though occasionally he adds an accent of a deep jewel-tone. He also wears a lot of leather and suede. His hair is past his shoulders, and he usually wears it pulled back Haven style (that is, banded just below the back of the head, and again about half-way down the 'tail').
Gage was indirectly responsible for Sulu's (see "Sulu Takeda") relationship with Cal (see "Ruis Calvario") (or, at least he puts that responsibility on himself) and has had a close - if somewhat clandestine - relationship with Sulu since the young Terran was 15.
Gage is friendly with his personal security guard, Tomor Rand (see "Tomor Rand"), and likewise with the Haven CEO's neice, one Loki Monolem (see "Loki Monolem"). His brithday is October 13, 2216. If he had been born on Earth, he would be Libra.