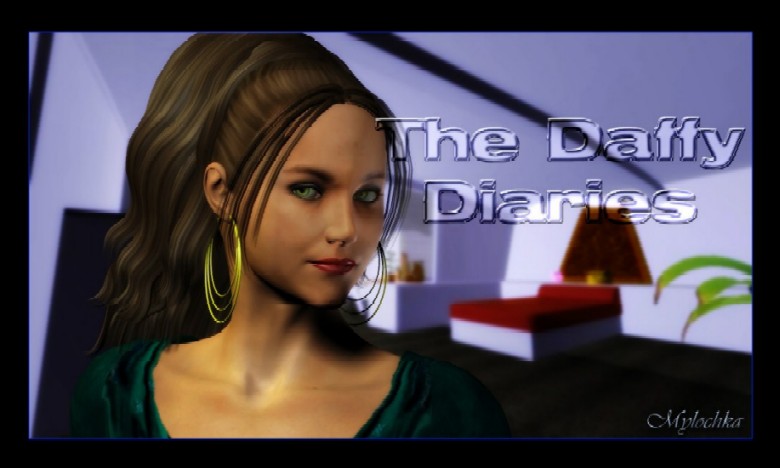 A Series of Vignettes
by Mylochka

Chanukah
(just prior to A Different Way of Looking at Things)
Go to the next chronological story/vignette
Go to the next vignette
Return to the previous vignette
Return to The Daffy Diaries
Return to Valjiir Stories
Return to Valjiir Continum
"I think we should help Dav and Judy Miller with the Chanukah party," Daphne Gollub announced abruptly as she sat down opposite her new significant other who was seated at an otherwise empty table in Deck Five's Rec Room.
"Chanukah?" Chekov repeated blankly.
"Yes. Since we're one of the only other Jewish couples on board..."
Chekov blinked at her. "I'm not Jewish."
Daffy smiled indulgently. "Yes, you are."
"No, I am not."
Gollub sighed and rolled her eyes. "Chekov, Pavel A." she began to recite. "Lieutenant, Starship Enterprise. Father, Andrei - as is made obvious by an excess of patronymics. Mother, Illyana Chekov nee Rostov of the Moscow Rostovs who are not only Jewish but prominent and well known in Eastern European circles. Rostov family business is - can-we-be-more-stereotypical? - jewelers who reputedly crafted diamond and ruby tchotchkes for a few major mistresses of a few minor Tsars... but I take that with a grain of salt. The Rostovs weathered some of the more unfriendly parts of the twentieth century in - of all places - Chicago, but decided to leave the good old U.S. of A. and go back to being Commies since they were being called that anyway... Which might all go a long way to explain present company's indecently incestuous love affair with Mother Russia - since there's no patriotism like re-patriotism."
When the stun began to wear off, Chekov asked, "Where did you get all of this information?"
"Well, after I had exhausted the Encylopedia Uhura-tanica... Oh, and by the way, if you ever ask me - like you did Leticia Neely - if it would be all right for you to go on shore leave with my slut of a roommate who publicly keeps score of how many members of the Bridge crew she's slept with, the answer is no... And I will hurt you for asking... I bribed a friend in Records to let me have ten minutes with your personnel file."
Chekov shook his head in amazement. "Daphne, sometimes you are a frightening person."
"And sometimes being with you is like dating a short, cute version of Spock with an accent, but why complain?" Gollub replied.
After taking a moment to realize there was no way to respond to this observation, Chekov cleared his throat. "Dafshka," he began firmly, "although my mother's family is Jewish... and indeed my mother is Jewish, I am not Jewish."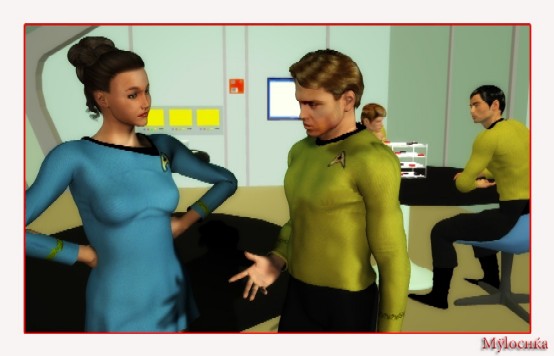 Gollub gave him a dubious look.
"What?" Chekov responded defensively.
"Pronouncing Chanukah correctly was a dead giveaway."
"As you already seem to know, my grandparents are Jewish so I..."
"And you had a bris, didn't you?"
"Only because the Rostovs insisted..." Chekov stopped abruptly. "Wait, how did you... Is that in...?"
Gollub smiled. "I didn't have to see your file to know you're circumcised."
"Dafshka," the navigator reproved, checking to see if they'd been overheard.
"What? You're afraid people may suspect we're having sex?"
Chekov could feel his cheeks coloring despite himself. "No, but there's no reason to boast about it."
"Eh," Gollub agreed. "Except maybe for last Tuesday..."
"Dafshka," the navigator pleaded.
"What? I'm embarrassing you?"
"You are," Chekov admitted plaintively. "You do."
She rose and gave his cheek an affectionate smack. "Get used to it, Bubeleh."
~ FINI ~
Go to the next chronological story/vignette
Go to the next vignette
Return to the previous vignette