The Dead Have Names
(original story by C Petterson and S Sizemore)
As rewritten by Cheryl Petterson
(Standard Year 2241)
Return to Part One
PART TWO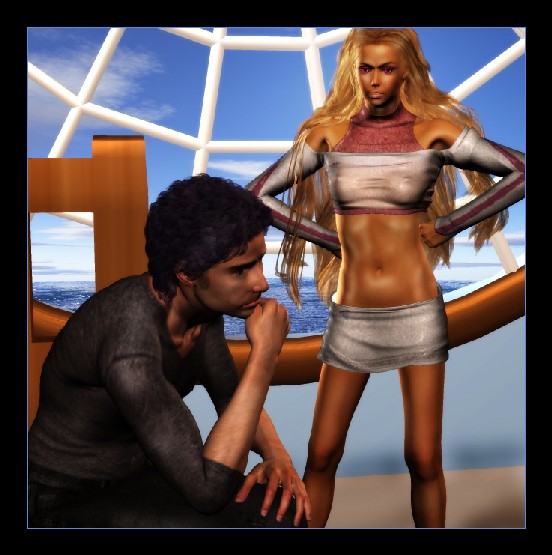 "How could he do it?" David repeated tonelessly as he sat on Ruth's bed. Ruth was pacing across the small room in her house at Berkley. "We ate his food, stayed at his place, he knew us all, he was a racer... we were his friends!"
"The ultimate kick, hunting a lover," Ruth snapped bitterly.
"All right, I was wrong, I said I was sorry!" David protested. "What do we do now?"
"I don't know. What can we do? How can we prove anything?"
"This was your idea!" David exploded in incredulity. Ruth turned and David grimaced, ready for the blistering retort. But her face was pale, her eyes pleading and tear-filled.
"David," she whispered, "help me." He sighed. "What if he saw me?" she continued softly. "He's a murderer, how can I go out again? How do I explain it if I don't? We can't just avoid him, people will ask why. We can't even tell anyone or they'll have the same problem. And how would we stop the lynch mob? Or even if we could, how would half the racers and makers get along without his money?"
"If we find a way to stop him, we'll still have that problem," David said glumly. "I wouldn't worry about it. No one would want to take money from the Hunter." He sighed again. "It would've been nice if you'd thought of all of this before you went on your little jihad."
"That's not helping!" Ruth snapped.
"All right, let me think!" Ruth stared down at him, her fists impatiently on her hips. "He has to reveal himself. There's no other way when we can't tell the authorities."
"How can they not already know?" Ruth wondered.
David snorted. "You're so naïve sometimes. Because he's filthy rich, that's how."
"Uncle Max...?" she suggested.
"Not even my father has that much influence," David returned pointedly. "Even if they found the ship, unless Cal was in it he could buy his way out on a 'it's a friend's' line."
"I wouldn't believe that," Ruth stated.
"Money works wonders, or haven't you been to enough of Cal's parties?"
"How do we alert a patrol when he's out?"
David got up, reprising Ruth's pacing. "I don't know," he murmured. "We can't. We don't know when he's going out until it's too late. And we'd be frying ourselves, too."
"Isn't there a pattern, something that's sure to lure him?" Ruth asked. David shook his head.
"No. Hunts have always seemed random. He must go according to his own sick priorities." He was silent for a moment. "Not the best, Kam was never hunted. Not the novices. Not the most flashy. Not royalty, not the youngest, not the oldest..." A third sigh. "No, there's nothing we could be certain would draw him. And as I said, what could we do if we could?"
"If we could get him to set off Terra's alarms, all we'd have to do is wait him out," Ruth muttered. David's eyes grew speculative and he stopped pacing.
"You know, that's not a bad idea."
"What's not a... oh!" Ruth said, then "How?"
"There's a party tonight..."
"Well I'm not getting near him!"
"Do you want to stop him? I'll get Cobra to help. You keep Cal busy, we'll plant a beacon in his ship. You said you saw where he keeps it."
"What about locks?"
"Cobra's very good with locks."
"I can't act normal around him!"
"You won't have to. We'll stage another fight about Katana."
She shuddered, her voice dropping. "David, I'm scared of him," she whispered.
David stepped to her and put suddenly comforting arms around her. "I know. But you're strong Ruth, stronger than you know. It won't take us long, I promise."
"I don't know if I..."
"You're strong, cousin. It's the only option we have."
###########################################################
He was restless. He found the presence of his racing protégés boring, almost irritating. Their pleasures were childish and far too tame. Without their reigning King to liven things up, they seemed to be only going through the motions.
He kept his usual charming smile on his face, but wandered away from the room full of noisy chattering as soon as he could. He stood on the terrace, aching with frustration. He was almost to the point of going back and telling everyone to leave. But that would never do. He was their friend, their benefactor. He alone never got annoyed at them, he was someone they could always come to for help, for money, for fun. They drained him, and gave so little in return, so few jewels to keep the nights sparkling... He hated them, and he loved them, and he needed them more than most of them would ever realize.
He heard voices near him, whispers that were getting louder, a conversation that was becoming a heated debate. Barak and Mensch fighting again. He kept the sneer from curling his lip. It was all so predictable! He craved originality, repetition was deadening...
Then Mensch's triumphant voice caught his attention: "I followed him as far as Terra's sensor grid, and next time I'll get him!"
"Sure you did," Barak mocked. "Give up, you can't prove it's not Katana."
"I will!"
"How? You got lucky. So you followed it to Terra. Who says your precious Terry doesn't live on Terra?"
"I'm going up again tomorrow, and the next day, and every day I have to. And I'll wait. All I have to do is triangulate from the sensor image I got..."
"Why haven't I seen this 'sensor image'?" Barak broke in sarcastically.
"I haven't downloaded them from the Spike yet."
"Uh huh. How convenient. When's that gonna happen, when hell freezes over?"
"You're a putz, Barak!"
"And you're a lunatic." Barak sauntered away, leaving Mensch fuming.
So you have a lead, do you my dear? You'll lie in wait to triangulate sensor readings? What a lovely challenge you'll make. And you've livened my night. For that, I intend to thank you - thoroughly.
###########################################################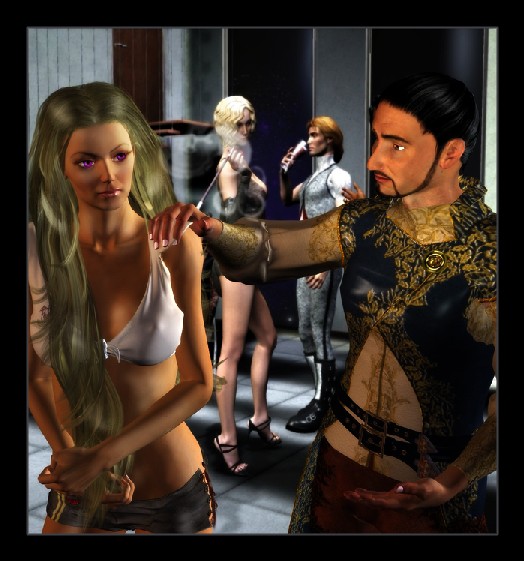 Ruth tossed her hair in a display of annoyance. She head Cal's approach, and turned. "Did you hear that?" she hissed. "He's such a - such a..."
"Yes, I heard," Cal murmured. "Splendid news about the sensor trace."
Ruth smiled thankfully, hoping it hid the shiver. She and David had agreed that the only ace they had to play was the alleged sensor readings, even though that put her in grave and possibly immediate danger. Cal had never hurt anyone at a Clave party as far as either of them knew, but it was taking one hell of a risk none the less. "If I download it, could you help me with charting the best place to wait for a really solid triangulation?"
"Certainly, my dear," Cal replied.
"It isn't Katana," Ruth said fiercely.
"I believe you, Spike," Cal soothed. His hand gently, affectionately patted her shoulder. It took all her will not to shrug it off.
"I need a drink," she muttered to cover the rush of fear.
"I can offer you something stronger," Cal suggested, "to calm you, to clear your mind - whatever you feel you need."
She let a slow smile come over her features. "You know," she said, "that sounds really good." She slipped her arm into his and he smiled down at her as they headed for the living room and the crowds of people. There was safety in numbers, she hoped. And the large bowls of Haven candy should give him encouragement to stay with her. She only hoped she wouldn't throw up.
###########################################################
"Cal? Cal's the Hunter?!" Jeremy said. "Barak, are you sure about this?"
"I'm sure about Ruth." David deliberately used her name, knowing that would tell his friend just how serious this was.
"Jesus." Jeremy paused, then, "Damn." Then, "Fuck! I knew there was somethin' about him, I knew it! I told Kam so many times..."
"Will you forget about Kamikaze for two seconds?" David growled. "We've got to get to the hangar where he keeps the damned thing."
Jeremy stared at him. "Get to the hangar? Don't you mean get to the authorities!?"
"And tell them what?" David said pointedly.
"Tell them Cal's the....! Oh." Jeremy suddenly calmed. "Shit."
"Spike figures if we plant this beacon on the ship, when he goes out, the authorities will catch him with his phasers charged."
"So we just waltz in and ask to see his needle?"
"No, we sneak in while Spike keeps him busy."
Jeremy shot him a wary look. "Barak, do you know how dangerous that is?"
"She's tough. She can handle it." When Jeremy still looked uneasy, David continued. "Cobra, you almost met your mongoose. She saved your life."
"It's not that," Jeremy said. "If we get caught..."
"And you're going into security?" David snorted.
"I ain't in Fleet yet," Jeremy muttered
"Lucky Fleet."
Jer scowled. David ignored him.
###########################################################
The moonlight cast strange shadows on the walls of the penthouse hangar. They'd gotten in through the Upstairs rooms, up a back staircase. David didn't care to ask how Cobra knew about it. It made him think of Kam and Cobra's less savory trysts and he never wanted to think about Kam and Cobra's less savory trysts.
Jer examined the small signaling device they were going to put in the Hunter. "You sure about this?"
"Spike said it'll set off every frequency Terra's got. She's good with computers."
"So she always says. What happened to your Katana theory?"
"I was wrong. Shoot me."
"If we get caught up here, I won't have to."
David sighed. "Come on, pick the lock. You're good at that."
Jeremy produced a small electronic tuner. It whistled softly as he slowly turned it, its focus aimed at the control panel of the hangar door. There was a resonant hum, and the door slid open with a hiss. David trained the shielded lamp inside.
"Jesus!" Jeremy rasped.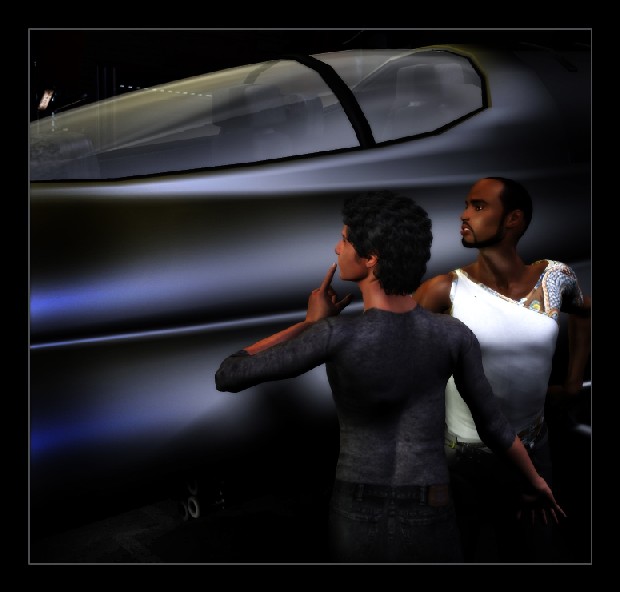 The ship was dark and deadly and beautiful. The powerful engines lay on folded stabilizers like sleeping dragons, the hull metal gleaming blackly. The phasers were set forward along her tapering bow, waiting points of emptiness in the sleek expanse. She was nearly twice the size of a conventional needle, but her build was the same wedge shape and proportion.
"The Hunter," Jeremy whispered, half in dread, half in awe.
"I wonder what her real name is?" David whispered back.
"Janeiro," Jeremy murmured, and David stared at him.
"How do you know...?"
"She's such a beauty, how can he use her to kill?" David saw the black man shudder, and shook off his own chill.
"Let's get it done and get the hell out of here. He may have this place scanned."
He crawled under the needle's engines while Cobra climbed into the cockpit. Both studied the work before them, then Jeremy said, "Standard impulse to port, Barak. Phaser control routes through starboard. Put it there."
"Right," David called back softly. His skilled fingers made the intricate adjustments and fitted the beacon. "It'll go off when he charges the phasers."
"I hope he doesn't believe in warm-ups," Jeremy replied. "Let's move."
They hurried from the craft to the door and left the hangar, Cobra carefully locking the door behind them.
###########################################################
"Get her out of there," David said worriedly. Jeremy glanced at Ruth. She was half reclined on one of the floor pillows, with Calvario right beside her. Cal's arm was around her shoulders, pulling her head to his. He was feeding her sips of dark brandy, and from the extra golden glow of her tawny skin, brandy hadn't been all he'd fed her.
"Will do, Barak," Jeremy murmured, and took a deep breath. He sauntered across the room.
###########################################################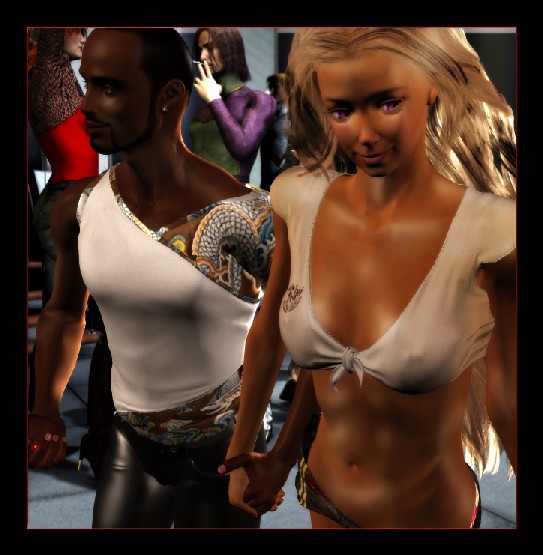 "Hey, Mensch."
Ruth looked up at the cool, low voice, meeting Cobra's flashing eyes. She could tell he was straight, but he was doing a fantastic job of being very wasted.
"It's my last party for a while," he said, sensually inviting. "Fleet, y'know. I got us some venus to share." He held out a hand. Two bright red capsules rested in his palm. "I wanna be able to really miss you." He smiled vacantly at Cal. "You don't mind, do you, Cal? After all, she'll still be here after I'm gone, won't she?"
To Ruth's great relief, Cal moved graciously aside. "I understand, of course, Cobra," he said. "Please, use one of the rooms upstairs. She has had a hit of amber," he added conspiratorially. Then he smiled at Ruth. "Another time, perhaps, Spike?"
"Another time," Ruth promised, and Cobra pulled her up from the floor and into a deep kiss. Then he slid his arm around her, heading for the staircase.
Once out of Cal's sight, they headed straight for the door. "Let's get the hell out of here," Cobra hissed. Ruth hurriedly kissed him.
"Thank you Cobra!"
He grinned, dropping the capsules into his pocket. "Pay me later. Come on!"
###########################################################
It was unbelievably exciting. He hadn't slept with the thought of it. He hadn't even checked the videos of the night's activities. To be hunted, to be prey - knowing, of course, that he would turn it around at the last possible moment - this was a thrill that was new and sharp. Lovely, lovely Mensch - or should I say Ruth? Yes, I know who you are. How many Antaris are there on Terra? Just two, and I also know the Ambassador. It would have been better if I had taken you last night, but this will do. Ah, this will do.
He climbed into Janeiro, almost fevered with the anticipation, setting the phasers to charge. He would have to cultivate this thrill, work at keeping it fresh. Yes, encourage a string of hunters for the Hunter. So sweet, so sating...
The sun began rising over the curve of Terra as he took the ship away from the hangar and up towards satisfaction.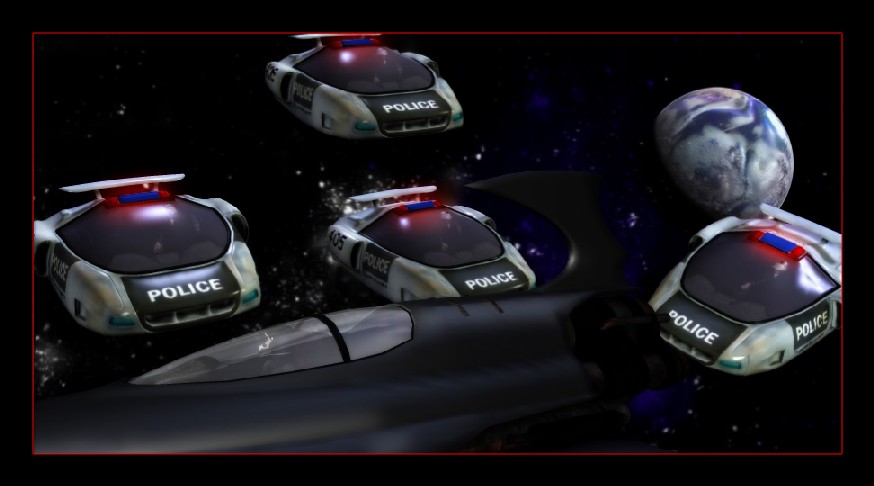 His heady desire was shattered as several patrol ships swarmed around him. A stern request to land came over his comset. He swore gutturally, furiously. How had this happened? Who would have dared inform on him? How could the patrols have come upon him so quickly? It was not possible!
He attempted to bluff his way out: I am Ruis Calvario, this is my personal shuttle, I am registered with the Haven Trading Empire, what law have I broken, I demand a lawyer...
But the mandatory inspection damned him.
Phasers, charged and ready.
And answered his questions.
A signal beacon was discovered on the lower starboard engine.
His eyes hardened, the easy smile fading into the cold malevolence of the Hunter. Mensch, Spike, Ruth Maxwell Valley - someday you will pay for this.
###########################################################
Ruth grabbed first David then Jeremy, whirling them joyously around the room, crowing between kisses, "We did it, we did it! Barak, Cobra, thank you so much!"
They had been monitoring the Hunter from a jerry-rigged sensor that took up a good part of the living room of her Berkley house. Being a good Clavist, Jeremy had made no comment when she'd brought him there after leaving Cal's. He already knew she and Barak were cousins, and he knew her name was Ruth. He also knew a great deal more about the perfection of her body than he had 24 hours previously. He smiled at the memory. She really had given him a reason to miss her. He guessed, by the look in Barak's eyes, that there would be plenty of discussion about that once they were alone. But for now, Ruth hugged him again, and he was content.
She brought out glasses and a bottle of ycasan wine. She poured, and they lifted the glasses in a toast. "For Katana and Missionary," she said. Barak scowled, but drank silently. Jeremy grinned meaningfully, also draining his glass.
"You know what I think?" he said.
"What" Barak answered.
"I think - " he paused mischievously, " - we've got an undiagnosed case of Starfleet fever on our hands."
"What?!" Ruth burst out indignantly.
"Pity Fleet," Barak said smoothly. "Shalom, Spike."
###########################################################
Five days later, a tape arrived at the home of Dr. and Mrs. Frederick Mancini, the visual portion blanked out, the audio disguised:
"Dr. Mancini - I'm a stranger to you and I'm sorry to be the one to break the news. I'm sorry it's taken me so long to find the courage to break security. I feel you of all people have a right to know what has happened to your son. I'm sorry you've had this time of worrying and not knowing his whereabouts. Ted was killed eight days ago. I saw him die. Or rather, I saw the explosion which destroyed his needle and killed him. I don't know what you might know about needle racing. Very little I imagine. We who take part in it are of necessity very secretive. We usually don't know the names of those who die racing, and even if we do, it's considered too dangerous to notify families. I was too fond of Ted to follow that custom. His death was needless, and I'm sorry. He was an adult, he did what he chose to do, he knew the risks. We all do. And still, I'm sorry. Had he died in a normal accident I wouldn't be taping this. At least I don't think I would be. Should you hear about the prosecution of a man named Ruis Calvario, I want you to know that he is responsible for the murder of your son, and many others. He is known among needle racers as the Hunter, and we have only recently discovered his identity. Again, I'm sorry about Ted. He was my friend. We called him Basset, and Missionary. I'm called Spike."
The End
To go to the next story in chronological sequence, click here