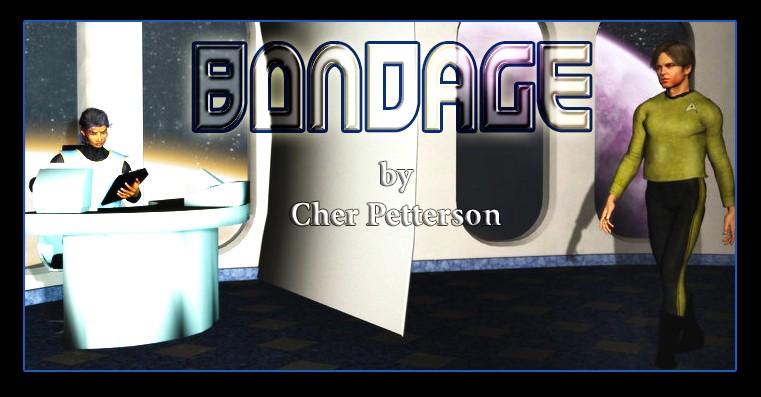 (Standard Year 2254)
Return to Valjiir Stories
Return to Valjiir Continnum
Go To Part Two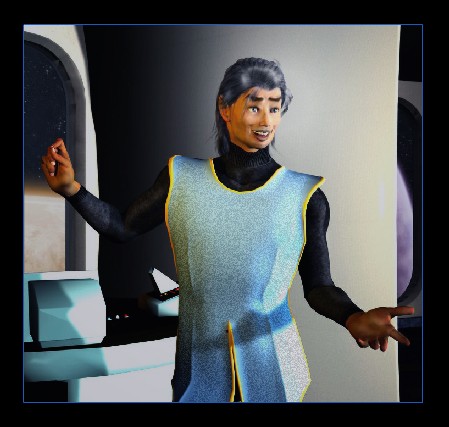 "Lahs?"
Pavel Chekov paused as an unexpected name came in a very familiar voice. He had been passing through the Logistics Section of Starbase 17, a department staffed by civilians. Though it made no sense that his long-time friend and the captain of the D'Artagnan would be here, much less that he would be using a name Pavel had tried very hard to forget, he nonetheless turned.
"Sulu?" he began.
Then the universe shifted.
The young man who was rising from a computer terminal had the same basic features, the same dark eyes, the same open smile of the man who had sat beside him at the Helm of the old Enterprise. But this person was far younger, his skin a bronzed olive, and the hair that was pulled back from his face revealed elongated pointed ears.
Vulcan, the Chief Navigator of the U.S.S. Enterprise categorized, then quickly revised, no, Romulan.
A Romulan on Starbase 17 in the clothing of a civilian contractor?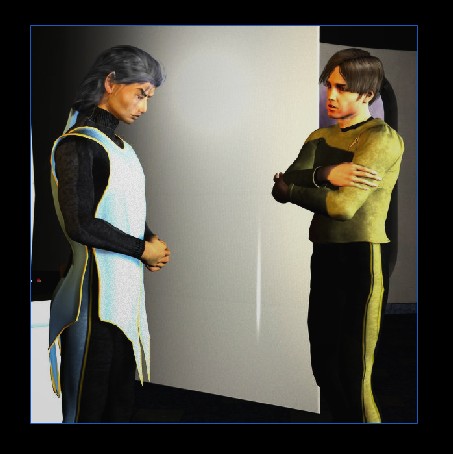 He blinked as the young man came toward him.
"I'm sorry," the undeniably attractive being said with a slight flush. "I know that's not your real name, but…" The full lips quirked as he leaned forward. "I never heard your Human one."
Chekov blinked again. "Forgive me," he said uncertainly, "but do I know you?"
He saw his own doubt reflected in the black eyes. "I'm Wen," the young man said. "Don't you remember?"
Half-formed dread began swirling in Chekov's mind, images that carried no memory, only the flashing caricatures of nightmare and hallucination. "No," he said, "no, I don't think I do."
The other's face became crestfallen. "Oh," he said. He dropped his gaze to the deck. "Forgive me, Lieutenant Commander. My mistake." He turned to go back to his station, and Pavel was seized by a compulsion and grabbed the young Romulan's arm.
"Wait!" he said. "How do you know that name?"
'Wen's' voice was very quiet. "Lahs? I had a friend by that name once," he murmured, then shrugged. "You – I thought you looked like him, a little. Forgive me."
The repeated request irritated the Russian. "There is nothing to forgive. It is an inconsequential mistake."
The young man glanced at him, no more than a brief flash of his eyes. "No such thing," he whispered, then moved quickly back to his computer.
*** || **** || ***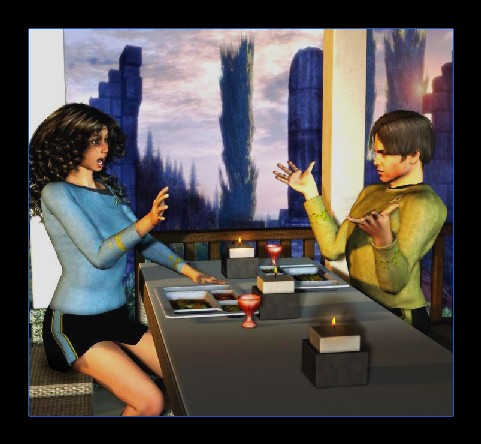 "It was a very strange encounter," Chekov said hours later as he sat at the base restaurant with his fiancé, Daffy Gollub. "I contacted the base authorities, and they assured me that, yes, he is assigned to Logistics. Though how a Romulan became a civilian contractor to Starfleet…" He shook his head, then placed another piece of steak in his mouth. "He said his name was Wen, and he called me Lahs…"
Daffy abruptly choked on her pasta. Pavel rose hurriedly, moving around behind her to administer first aid, but she waved him away.
"Dafshka, are you all right?"
When she got her breath back, she rasped, "Say that again, Pavel."
"Say what again?"
"His name, what he called you!" the chemist nearly shouted.
"Wen," Chekov answered, and he felt his ears growing hot. "He called me Lahs."
"Oy flippin' vey!" she breathed, then raised her hand. "Waiter! Check! NOW!"
*** || **** || ***
Commander Ruth Valley was sitting at a mess table on the Enterprise, happily munching on a fresh, ripe peach, her mind in lazy communion with Spock's six-weeks-away-from-being-born son. Her feet were up on a chair across from her, her rounded belly protruding like a fleshy basketball below her halter and above the shorts she was wearing. She was silently humming an Antari lullaby, hoping that it would slow her child's gymnastics, and watching the ripples his movements made crawl across her stomach when there was a commotion by the mess hall door.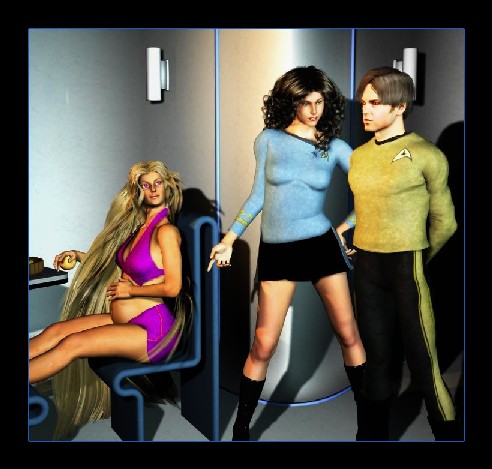 Daffy Gollub was dragging her intended across the room, straight for the Antari.
"Don't tell me," Ruth called brightly. "The wedding's off again."
"Tell her!" Gollub demanded. Chekov's face was a bright red.
"Dafshka, I'm sure it was nothing…"
"The hell it was! Tell her!"
"If this is as upsetting a thing as you seem to think, why would you want to burden Ruth, in her delicate condition…"
"TELL HER!"
"I think you'd better tell me, Pav," Ruth remarked.
Pavel repeated the description of what he insisted was nothing more than a 'strange encounter.' But when he said the names, Ruth sat bolt upright, ignoring the violent protest from her son.
"We're going to see the Captain," she said. "Right now."
*** || **** || ***
Upon the third repetition of the story, even Pavel was beginning to think there was something terrible about it. Captain Spock listened with a great deal more calm than had his fiancé or the First Officer, but his reaction was just as grave.
"I must make a call to Starfleet Intelligence," he said. "Mr. Chekov, I must ask you to discuss this matter no further until I speak with you again. Is that understood?"
"Yes, sir," the Russian replied automatically.
"Not even to Miss Gollub."
"Hey, no fair!" Daffy protested.
"You understand, Lieutenant Commander, that this is a strict need-to-know situation," Spock stated sternly.
The chemist frowned. "Yeah, but I already know…"
"Miss Gollub."
With a twist of her lips, Daffy said, "yes, sir."
*** || **** || ***
As he expected, Spock got very little information from Starfleet Intelligence. They confirmed that, yes, the former Romulan bedslave had been reoriented and was currently furthering his education in the Logistics Section of Starbase 17. They had left his memory intact because, they said, his knowledge of Romulan society would be invaluable when he was able to undergo the indoctrination necessary to become a full agent assigned to a Romulan base. They said it should pose no problem because they were confident Lieutenant Commander Chekov retained no memory of his experiences in Kol-ran. When Spock expressed his doubts concerning the latter, they informed him that an agent would be sent to Starbase 17 to conduct another debriefing of the Russian, just to be on the safe side. The Enterprise was to remain on an extended layover until the agent arrived and the Lieutenant Commander's condition could be verified.
Having no acceptable alternative, Spock agreed and broke the connection. He wasn't at all sanguine about the turn of events, but he knew there was little he could do to protect his Chief Navigator from the reach of Starfleet Intelligence. He only hoped both the Russian and his fiancé would forgive their captain.
*** || **** || ***
"Commander Hernandez will conduct an examination and determine if there are any further steps to be taken," Captain Spock informed Chekov and Gollub. "You are to cooperate fully, and give her any information she requires."
"She?" the chemist said with a wary frown. "Don't they have any male agents?"
"I am given to understand that it is the way of Starfleet Intelligence to assign agents cross-gender if at all possible," Spock returned. "This is deemed to be a psychological advantage."
"I'll bet," Gollub muttered.
"If you wish, Mr. Chekov," Spock continued, "I can insist Dr. McCoy be present at the briefings, as a precaution against any physical effects you may experience."
The Russian swallowed, his brown eyes widening. "Physical effects, sir?"
"There may be some – unsettling reactions to the agent's mental probing," Spock clarified. He gazed at the worried expression on the navigator's face, and the equally troubled look on Lieutenant Commander Gollub's. "If you would feel more comfortable, I can also attend the debriefing."
"And Ruth," Daffy put in.
Spock turned his attention to her. "Miss Valley is not in a condition to use her keheil abilities," the captain reminded.
"Yeah, but if you're gonna be holding Pavel's hand, I want somebody to hold mine," the chemist retorted.
The Vulcan's eyebrow rose. "I did not say you would be included in the debriefing, Miss Gollub."
Chekov almost grinned. "Do you intend, then, Captain, to keep her either in chains in the brig or sedated?" He glanced fondly at his fiancé. "Or both?"
Spock allowed himself a small smile. "You do have a point, Mr. Chekov."
"Besides, we're engaged," Daffy said, taking hold of Pavel's arm. "Anything he knows I'll know too, eventually. Like you and Ruth." She grinned, an unsettling combination of affection and dare.
"Starfleet has been known to order a husband to keep things from his wife," Spock reminded.
"Yeah, but mini-Captain Bastard he's not," Gollub returned, her smile widening. She squeezed the navigator's upper arm, and Chekov winced.
"And, sir, the situation has changed with the acceptance of the Nests," he put in apologetically.
Spock arched one eyebrow, acknowledging the truth of the Russian's statement. "Very well. I will inform Commander Hernandez that Miss Gollub will be attending the briefings. However," he learned slightly forward over his desk, "it would have eased matters significantly if you had not postponed your actual nuptials on a regular basis since the launch of the Nest ships."
Chekov flushed, and Daffy pulled herself up. "I've been trying to get Rabbi Miller here for the last six months," she said, shooting a glare at the navigator as though the conflicting schedules of the Enterprise and the Lincoln were somehow Chekov's fault.
Before the Russian could begin a verbal defense, Spock raised his hand. "That is all I have for you at the moment, Lieutenant Commanders. Agent Hernandez will be arriving in two days. I trust the crew will enjoy this unexpected leave."
*** || **** || ***
Curiosity got the better of her. Ruth put on a maternity uniform and beamed down to the Starbase, casually making her way to the Logistics section. She had, once upon a time, gotten an impression of the young Romulan Chekov had known during his Intelligence undercover mission straight from the navigator's mind, but there had been little in the way of physical details other than bozhe-moi-he-is-so-young/pretty. It wasn't going to be difficult to spot him, though – how many Romulans were there on Starbase 17? And Chekov had said the reason the encounter was a strange one was – among other reasons – because the young man looked so much like Sulu…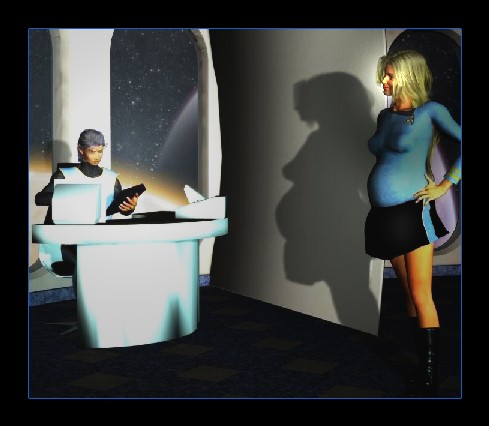 She was, of course, right. She had no trouble finding him at all. He was seated at a computer terminal, taking notes on a statboard, cross-referencing with the information on the screen. She actually had to stop her startle reaction; the young man did, indeed, look a hell of a lot like the captain of the D'Artagnan – or at least, how she imagined he would've looked in his late teens.
She studied him covertly for a while, noting that he seemed very focused and very studious, not at all how she imagined Sulu in his late teens. The thought made her giggle, and the young man abruptly looked up.
Wow, she thought to herself, her own abilities recognizing the talent inherent in him. His empathy was nearly as strong as her own, and his shields were like neutronium. The thought, gleaned from Chekov's ghost-memories, that the boy had been trained as a sexual slave sent a momentary flare of heat straight to her loins, which was immediately countered and cooled by the strictures of the salish. Since the unexpected joining with Spock that had resulted in the conception of their son, there could never again be any serious desire for anyone else in either of them.
The young Romulan immediately rose, stepping from his station to her. "May I help you, Commander?" he asked, then murmured something in Romulan, which her mind automatically translated, Blessed of Kal'iian. It was, she understood, the instant, proper recognition of her pregnant state.
"Not really," she said, smiling. "I'm a friend of Lieutenant Commander Chekov and I wanted to…"
"Who, ma'am?" he interrupted with a quizzical frown.
"You knew him as Lahs," she returned.
The dark eyes grew soft and sad. "Oh," he said, then his features grew hesitantly hopeful. "Then that was…?"
"This afternoon, yes," Ruth confirmed. "But I'm afraid the Lieutenant Commander doesn't have any memory of – the time you knew him."
"Oh," the boy said again. He glanced down at the deck. "Thank you for explaining it to me, ma'am." There was such sorrow in him that Ruth's empathy twinged. She stuck out her hand.
"I'm Commander Ruth Valley, I'm the First Officer of the Enterprise, the ship Chekov serves on."
The Romulan shook it, though there was little strength in his grip. "I'm Wen Kolran," he began, then let out a soft gasp, pulling his hand away from hers. Her brow furrowed at this unexpected reaction.
"I also happen to be the wife of someone else you may remember," she continued. "Spock of Vulcan, who you knew as the Romulan, Tarvak."
Wen stepped away from her as if stricken. "That's… not possible!" he stammered. "Mas – Tarvak was Bonded to..."
"And Spock is Bonded to me," Ruth replied, and smiled soothingly. "I understand it might be a little confusing."
She felt Wen's gifts carefully sorting the emotions he was receiving, just as careful to avoid any actual mental contact with her. They confirmed, as he had sensed though the physical touch of the handshake, that there was, indeed, a Bond within her – and there was a touch of confusion at that, immediately countered by a sense of chagrin.
"Forgive me, ma'am." he said at last. "I meant no offense. I'm not quite used to the idea of a Bond between males and females." He gave a hesitant smile. "Although I'm well aware I should be by now."
Ruth was taken aback by how charming that sweet smile was. It was so very much like Sulu's occasional self-deprecating expression…
"None taken," she assured him. Now that her curiosity about what he looked like was satisfied, she moved onto another area of inquisitiveness. "How did you come to work here?" she asked.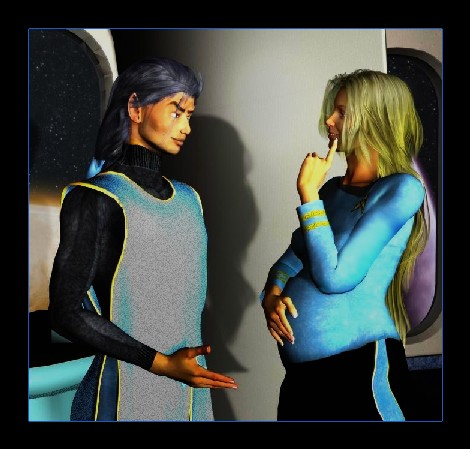 "I'm continuing my education," Wen replied, apparently quite relieved to be away from the subject of Bonds. "As you might imagine, I have both a lot to learn and a lot to unlearn." He leaned forward, his voice lowering to below a whisper. "May I assume, ma'am, that you know my – history?"
"That you have been under the tutelage of the telepaths at Intelligence?" Ruth murmured back. "Yes, I know that much."
The Romulan straightened again. "They have been most kind to me, and most helpful in my assimilation into Federation culture."
I'll just bet they have, Ruth said to herself. "I wish you luck in your future endeavors, Mr. Kolran."
The young face grinned. "Wen, please," he said. "They gave me a surname because that's the norm in the Federation, but it's really just the name of the province in which I was born."
Ruth returned the smile. "I know how that is. I only have a last name because my father was Human. On Antares, we only have matronymics."
"Then may I be allowed to address you as is proper, my Lady?" he asked. His dark eyes were full of pleasure and respect.
Ruth shrugged. "Ruth ani Ramy," she said.
Wen gave a deep bow. "Lady ani Ramy," he said, and she sensed that he was strictly controlling his gifts as he gently took her hands, kissing her fingers. "If you will forgive me, I must return to my studies."
"By all means," the Antari replied. "I'm pleased to have met you, Wen."
"Will you give – Spock – my congratulations on the blessed event?"
She smiled again. "I will."
"And please convey my apologies to Lieutenant Commander Chekov. I have no wish to cause him any discomfort."
Again Ruth said, "I will." But as the Romulan turned back to his station, she felt a sharp stab of pain and loss.
*** || **** || ***
Commander Emilia Hernandez was a nice-looking woman of Spanish descent with a wide, soft mouth, but nothing else particularly striking about her. She wore her brown hair in a rather severe bun, and her light brown eyes were intelligent and intense. She reported to Captain Spock immediately upon arrival, and accepted his conditions that a physician, a keheil, and the Lieutenant Commander's fiancé be present with no protest. However, when the very pregnant Commander Valley walked into the briefing room, she balked.
"Captain, surely you are aware that a keheil in her condition can be of no help here at all," she stated.
"My wife is here in the capacity of support for Miss Gollub," Spock returned.
Hernandez frowned. "If that's the case, perhaps there is no need to include Miss Gollub at all."
"Oh, yes there is," the chemist said firmly.
"She was present during the work I did immediately after the completion of Chekov's assignment with you people," Ruth told the agent. "She knows as much about it as I do." The Antari gave a blinding smile and a flash of the power that lay temporarily dormant within her.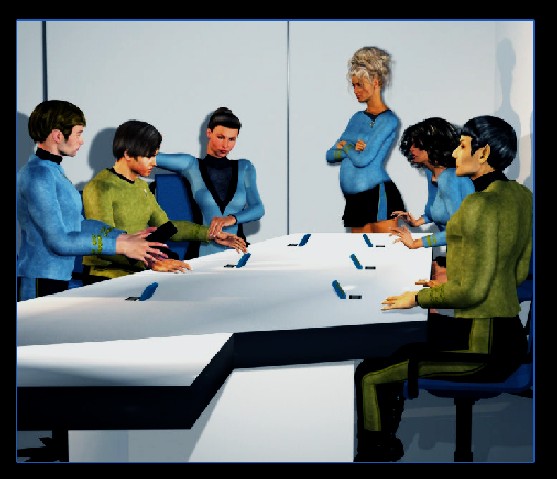 Hernandez glanced at her, nonplussed. "Can you vouch for her discretion, Commander?" she asked.
Chekov coughed.
"Give me about six weeks and I can enforce it," Ruth replied with a warning glare at Daffy.
"Miss Gollub is an excellent officer, and the assistant to my Chief of Sciences," Spock put in unexpectedly. "I am certain she understands the sensitive nature of the information that is to be discussed here."
"Thank you, Captain," Daffy replied with true gratitude and a for once genuine smile.
"Mrs. Spock, can you adequately shield your child?" the agent said bluntly.
Ruth bristled, not only at the incorrect appellation, but at the woman's implication.
"Of course I can. That is why my keheil talents won't be of any help," the Antari returned, making her voice was dry as she possibly could.
Calm, my wife, Spock said gently. The Commander is only doing her job.
Ruth remained tactfully silent.
Leonard McCoy was running a scanner over Chekov. "Apart from a perfectly understandable slightly elevated blood pressure, you're fine, Chekov," he said. He kept the scanner active, but muted its characteristic whirring sound.
"If we're ready to proceed, gentlemen, ladies," Hernandez began.
"What do I have to do?" Chekov asked.
"Nothing at all, Lieutenant Commander."
"Miss Valley asked for my…" the Russian stalled.
"I assume I have it, or Captain Spock would not have called me here," the agent reprimanded sternly.
Chekov glanced at Valley, who shrugged.
"It's okay, bubee," Daffy said softly, taking a hold of his hand. "We won't let her do anything – untoward." She showed her teeth to Hernandez. The woman ignored her.
"Just relax, Mr. Chekov. This won't hurt a bit."
"That's what they all say," McCoy muttered.
*** || **** || ***
The first half hour was tediously uneventful. Hernandez had simply placed her fingers against Chekov's temple, closed her eyes and sat there. McCoy's scanner showed only marginally increased metabolic readings. From the look of concentration on Spock's face, it was obvious he was monitoring the proceedings as well.
"How long is this gonna take?" Daffy whispered to Ruth.
"As long as it does," the Antari returned.
"You are listening in, aren't you?" the chemist continued.
Ruth nodded. "So far, she's only making sure that there aren't any engrams left," she said.
"I thought there weren't any," Daffy insisted, "only that dead Romulan guy."
The Antari shook her head. "Nope. They did both."
"Department of Redundancy Department," McCoy commented and Daffy snorted.
"It would be helpful if you refrained from talking," Hernandez suddenly murmured.
"I can do two – " Ruth paused, placing her hand on her belly, " – three things at once, Commander."
"But Lieutenant Commander Chekov can hear you, and it's beginning to distract him," the agent countered.
"Sorry, bubee," Daffy whispered, then winked at Ruth.
"Amateurs," Ruth sniffed and McCoy chuckled.
*** || **** || ***
It was a very strange dream.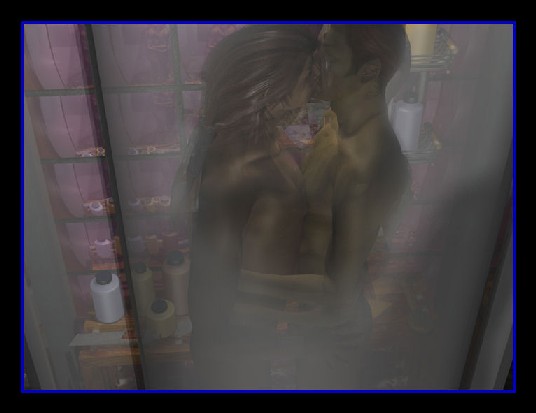 Pavel looked down at himself – at a Romulan who had once been him – quite surprised but somehow oddly unconcerned with the fact that he seemed to be engaged in mutual masturbation with another Romulan who looked very much like Sulu. The emotions that came from the pair were quite heady, but didn't touch him at all – with the possible exception of a slight discomfort because the young man was not the person he felt he should be doing such things with. This, of course, posed an immediate question: if not the young, pretty Romulan, then who was he supposed to be doing such things with? Somehow the idea that there was such a person didn't seem either disturbing or open to question.
How odd, he found himself thinking. I have never been attracted to men. I wonder who this unknown person could be? Given the circumstances of the dream, it had to be another male – didn't it?
He considered that. It was within the realm of possibility that his desire was for some female, and the Romulan boy happened to be the only available partner. But that would mean he had only been using the Romulan, and that was far more disconcerting an idea.
Which led him back to who his partner in such things should be.
The obvious answer was Sulu, if only because the boy looked so much like the captain. He dream-closed his eyes, examining that possibility. He let himself flow into the thoughts of the 'him' in the small shower stall –
– then abruptly pulled back out at the cacophony he found there. He was certain there were pieces of at least six other thought-patterns in 'his' mind, not including his own, which seemed to be altogether absent. One of them was definitely female, though, and it raised his hopes that this was the illusive 'person he should be doing such things with'.
But how to go about either confirming or eliminating that possibility?
Again the answer seemed obvious. He would have to dive back into the maelstrom…
Hold!
*** || **** || ***
"Captain, I have found a memory trace that should not exist," Hernandez stated. She was holding Chekov's wrist tightly, pressing against the ulnar artery. "It appears that the Lieutenant Commander's mind has deliberately held onto certain pieces of information that should have been wiped in his initial debriefing process."
Daffy scowled at the word. "There were a lot of things you people forgot to 'wipe'," she muttered.
The agent turned to her. "It was hardly a matter of forgetting, Miss Gollub. When the subject is resistant to…"
"You dig a little deeper," Ruth put in, then winced, and lightly slapped her stomach. "Glorf, stop it!"
Ruth, if he is disturbed by the telepathic climate… Spock began with concern.
Your son is just as indignant about this whole thing as I am, Ruth told her husband. And, I might add, as you are.
For an organization as notoriously efficient as Intelligence, it is somewhat disconcerting that they could have made such a glaring error in Mr. Chekov's case.
If it is a glaring error.
Spock raised a mental eyebrow. You think not?
Don't you think such questions would be better directed to me? Hernandez's voice sounded in both their minds. The baby in Ruth's womb kicked violently.
"Miss Hernandez, I did not invite telepathic contact," Spock said aloud and very disapprovingly.
And the next time you try it I'll give birth right now and blast you back into the stone age, Ruth snarled.
The agent appeared unfazed. "During an Intelligence briefing, agents are empowered to use whatever methods are at their disposal to gain the information they need," she reminded them both, with a particularly unimpressed glance at the Antari. "Section 86C, sub-paragraph 4 of Starfleet Regulation 127 concerning Intelligence Gathering."
"I hate to break up your little telepathic pissing contest," McCoy put in, "but Chekov's hand is starting to turn white."
"He means let go of his wrist!" Daffy snapped immediately.
"That would be inadvisable," Hernandez told her. "I must continue my examination. I can field questions while I work, if they are respectful ones."
"I'll give you a respectful question…" Daffy began heatedly.
"Don't worry, Daf," Ruth said, "I've got all four eyes on her." She again patted her stomach. "Glorf likes his Uncle Pasha."
*** || **** || ***
He was being prevented from conducting a full examination of that which would give him the answers he needed. He didn't like that. It seemed both inefficient and illogical. The thought that the information might prove to be somehow damaging to his psyche was brushed off with an irritated snort.
I am not a child, he told it. If there were unpleasantries associated with the completion of a mission, I am a big enough boy to handle them.
You weren't, came the blunt answer.
Because I was denied crucial information, he countered it. It was a mistake then, and it is a mistake now.
Then he realized he was not simply addressing a stubborn part of his own mind.
Agent Hernandez?
Yes, Lieutenant Commander Chekov.
May I respectfully inquire what any of this has to do with the situation for which Captain Spock summoned you?
There was a sense of amusement at his choice of words. The question itself proves you aren't prepared to deal with it.
Perhaps I would be, Chekov countered, if I knew what 'it' was.
Look at your memory, Mr. Chekov. Look at the boy you are engaged with.
Pavel did, then frowned. So this is the Romulan I met earlier, he admitted grudgingly. While I confess I am not usually given to such fantasies, I fail to see…
There was a muted giggle. You sound just like Spock.
Miss Valley?
I will not tolerate such interference, Commander! the voice of Hernandez snapped.
Sorry, the Antari said, but there was no sense of apology in her tone.
Thank you, the Russian told her belatedly, then returned his attention to the Intelligence agent. In any case, if this is some central point, why would you prevent me from…
Because, Mr. Chekov, this is not fantasy, Hernandez said grimly.
Not…?
This is a memory trace, one that should have been eradicated when the Lahs persona was…
He wasn't, Pavel growled. He died.
Yes, the persona did not survive the extraction process…
No. He chose to die. He died before your people removed him from my mind.
He felt the agent's surprise. That was not included in the final report.
I can imagine why, the Russian commented sourly.
Hernandez frowned. This calls for a completely different approach.
*** || **** || ***
Commander Hernandez sat back, easing from her mental contact with the navigator.
"Well?" Daffy asked impatiently.
"The situation is different than I had anticipated," the agent responded thoughtfully.
Pavel had opened his eyes, and was shaking his head slowly as if to clear it. Daffy took a hold of his hands.
"You're alright, Pasha?" she asked softly.
"Apart from some disturbing memories, yes," he answered her. She glanced at McCoy, who gave her a thumbs up and switched off his med scanner.
"Who'd've thought a great telepath like you could be surprised," Ruth commented.
Sarcasm is not helpful here, Spock said gently.
Yeah? For who?
"The central problem seems to be simply that the Lieutenant Commander's subconscious is responding to the unfortunate meeting with Mr. Kolran," Hernandez said, ignoring the silent interplay.
"Who?" Chekov asked.
The agent brushed the question aside. "Due to the fact that he still – unfortunately and for reasons I cannot discuss – retains some of the Lahs' persona's memories. Which I can't help him with. Oh, I could of course simply erase his subconscious…"
The Russian blanched.
"…but that, I think, would do more harm than his simply coming to terms with what these memories evoke."
"He's in the room, Miss," McCoy put in gruffly.
"When I helped him before," Ruth said, "he had to talk about – things – before he could let go of them."
"A standard psychological approach," Hernandez returned dryly.
"And I had to help him break the blocks your people put in his head in order for him to do that," Ruth added both accusingly and defensively.
"In the room," McCoy repeated.
"And you may have to do so again," the agent responded.
Ruth made a face. "I can't. Obviously."
"Captain Spock," Hernandez said, turning to the Vulcan, "do you request my aid in this matter?"
"He's IN THE ROOM!" the doctor thundered.
"What do you want, bubee?" Daffy asked of Pavel, though she was grinning at McCoy.
Chekov shook his head. "I would prefer the entire matter be dropped," he said. "I said from the beginning this was only a strange encounter."
"Are you able to relegate it so easily?" Spock asked with clear concern.
The navigator nodded. "It is unlikely I will see – Mr. Kolran – again, da?"
"If you don't go baseside," Ruth said, her voice not entirely convinced.
Chekov nodded. "Then it is settled. Miss Hernandez, I am sorry you were brought all this way for so trivial a matter."
"Intelligence is always at the service of Starfleet's officers," the agent replied graciously. She again turned to Spock. "All the same, Captain, I believe I'll stay for a few more days, just to be certain I'm not needed."
"We are always at the service of Starfleet Intelligence," Spock returned.
*** || **** || ***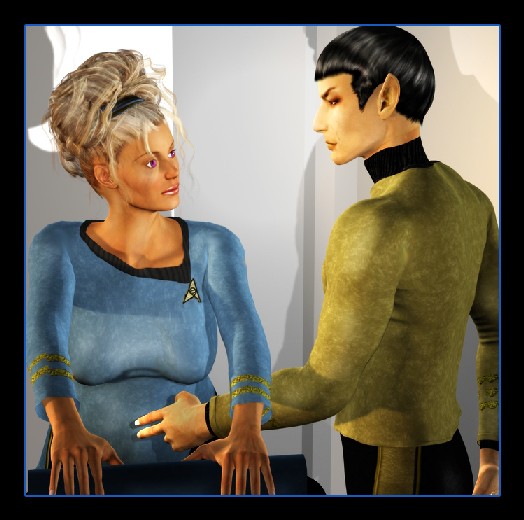 I don't like it, Spock, Ruth said to her husband after McCoy, Daffy and Chekov had left and Yeoman Pearson had escorted Agent Hernandez to guest quarters. Neither does Glorf.
Spock sighed. Nor do I – or the fact that you insist on calling our son by a facetious nickname.
He's gonna have blonde hair, pointed ears and grey eyes, she retorted easily. He's an elf.
Your fondness for Tolkien literature notwithstanding, his name, as we have discussed, will be Sarek.
And I've told you that it's against Jewish custom to name a child after someone who's still alive.
My father will consider it a great honor.
And we've just got to placate him…
Ruth, Spock warned sternly.
Yeah, yeah, your father is worthy of respect, I know.
It will also please my mother.
Ruth grinned. Well, for Amanda…
Her husband returned her smile.
Can you help break the blocks that are inevitably gonna come up when Daffy beats Chekov into dealing with this? Ruth asked.
Spock shuddered, and Ruth received a horrendous picture of a Romulan body with Pavel's face, its entire back striped with welts and bruises.
Oh, Zehara…!
The image was abruptly cut off. Can you and our child endure such memories, my wife?
Ruth gently touched her husband's face. I already know them, she returned softly. Salish, remember?
But they will be brought to the forefront…
I can deal. It's in the past.
I love you, my Dei'larr'ei.
And I love you. And so does Glorf.
Spock made a face and Ruth laughed.
*** || **** || ***
Go To Part Two