Return to The Valjiir Continuum
Valjiir Art Galleries

Artwork by


and


Visit Mylochka's site at New Dimensions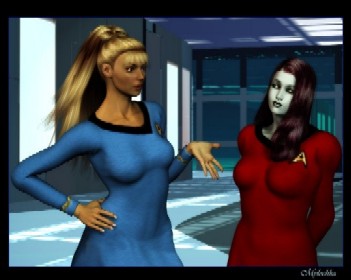 Ruth Valley
Jilla Majiir
The Goddesses
Takeda Sulu
Spock
Jade Han
NEW!Noel DelMonde
NEW!Daffy Gollub
NEW!Pavel Chekov
Sulu and Jilla
Spock and Ruth
Daffy and Pavel
Jim and Jade
Jim and Jade's Wedding Album
Group Shots
containing more than one person or other couples
Others
pictures of - obviously - other members of The Usual Gang
Adult Art
WARNING: artwork is rated R!
The "Reaching Eden" Gallery
pictures of Our Heroes in Sevrinite costume
The Imperial Gallery
the Gang's Imperial counterparts - what else?
Beefcake
Guess?
Ship's Tour
Setting shots and ship locations.
Telmnori
The full-size pictures from the montage in Telmnori.